Whether you're a seasoned business traveller or heading out on your first business trip, there are a number of new factors to consider before hitting the road. This includes understanding the rules and regulations of your destination, knowing what you might need to bring on your trip that wasn't necessary before, and ensuring you're armed with the tools that will keep up-to-date and in touch while travelling.
To help you prepare for your next trip, take a look at our handy traveller checklist, download our traveller app Sam, and make sure you've packed everything you need to stay safe and healthy. 
Traveller checklist
Now, more than ever, it's important to be well prepared before embarking on a trip. From researching visas, checking the latest border control measures and security updates, to understanding exactly what your insurance covers, we know there's a lot to consider.   
Use our handy traveller checklist as a guide to understand the rules and regulations, required documents and items to take with you, so that you're ready to hit the road!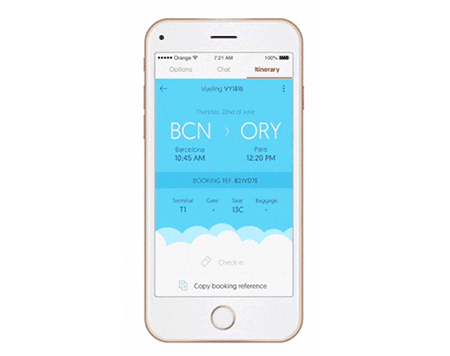 Travel safe with Sam
When you're on the move, our mobile travel app Sam has you covered. As a travel companion, Sam has always been quick to let you know about changes to your flight or your gate, traffic conditions and what to expect weather-wise. And thanks to our partnership with WorldAware intelligence, Sam will also send you relevant security notifications, let you share your location and notify your company that you're safe.
Features:
Real-time notifications combining traveller's itinerary and location information (if GPS permission is granted)

Travel alerts powered by WorldAware

, together with expert recommendations
"Report I'm safe" capabilities

Live chat to talk to a real Travel Agent

Itinerary changes on the fly
Flight delay and cancellation notifications
LOOKING AFTER YOUR HEALTH: WHAT TO PACK 
A basic travel health kit is important no matter where you travel. First aid supplies and medications may not always be readily available in other countries or may be different from those available at home. A good travel health kit contains enough supplies to prevent illness, handle minor injuries and illnesses, and manage pre-existing medical conditions for longer than the duration of your trip.
What should I include in a travel health kit?
A first aid kit doesn't need to be bulky or take up too much space, consider potential issues and if you could quickly solve them yourself. Basics include plasters, blister pads, tweezers, rehydration sachets and off course now more than ever hand sanitiser, antiseptic creams and anything to help with keeping the area around you clean. 
Can I travel with medications?
Discuss the use of medications with your health care provider before departure and carefully follow the directions for use, including dosage and when to seek medical care. Bring more than enough medication to last your entire trip, and if you need to use needles or syringes, take more than enough to last for your entire trip and carry a medical certificate from your healthcare provider explaining that the needles or syringes are for medical use.